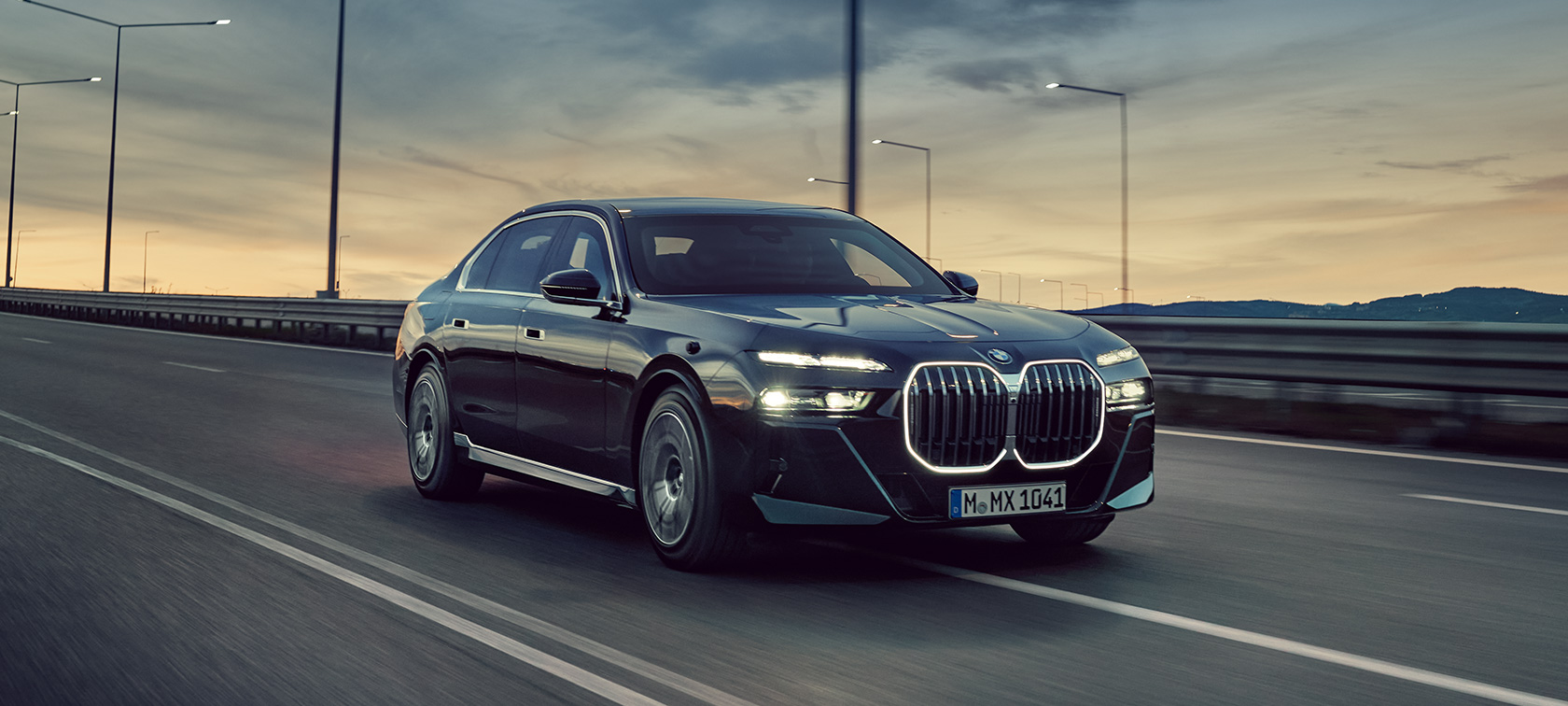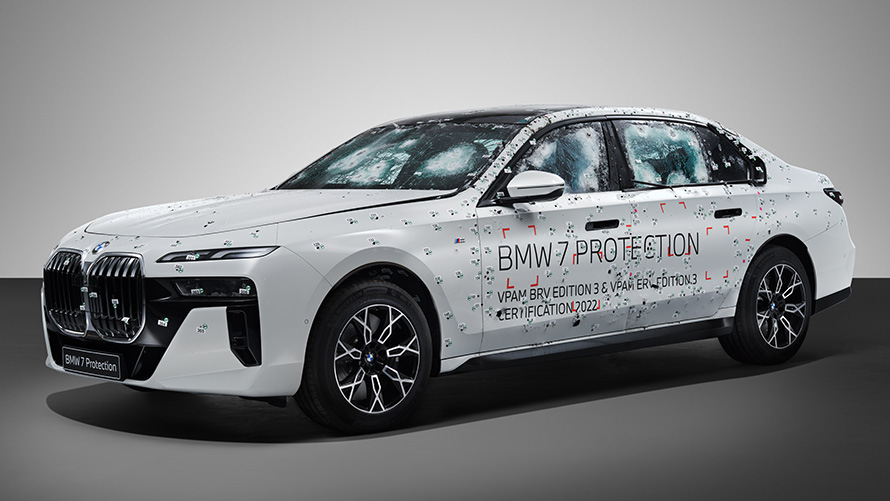 PROTECTION CORE.
The new BMW 7 Protection offers a very high level of protection against ballistic attacks or explosions, proven in extensive and demanding studies and officially confirmed by the German government test facility "Beschussamt Muenchen". All passenger doors can be equipped with an emergency exit function.
Read more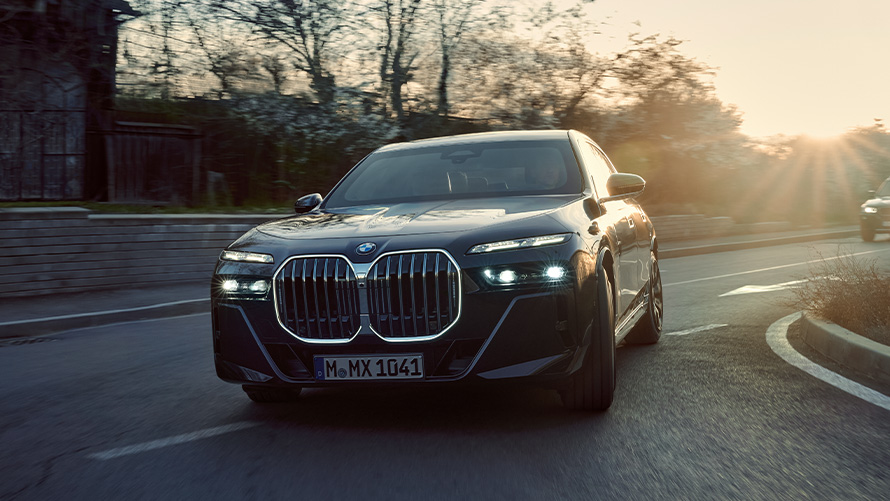 DESIGNED TO STAY IN MOTION.
Not stopping in dicey situations is essential for survival. That's why everything in the new BMW 7 Protection is designed to keep you moving in the most adverse conditions, even if the vehicle has already been damaged or shot.
Read more
PROTECTION EQUIPMENT.
The new BMW 7 Protection offers a wide range of protection equipment for the exterior. For example: Removable blue beacons and flashing lights for the kidney grill, a second rear view mirror (digital), or additional ballistic protection. Optional available pennant holders for both sides.
Standard Equipment
Optional Equipment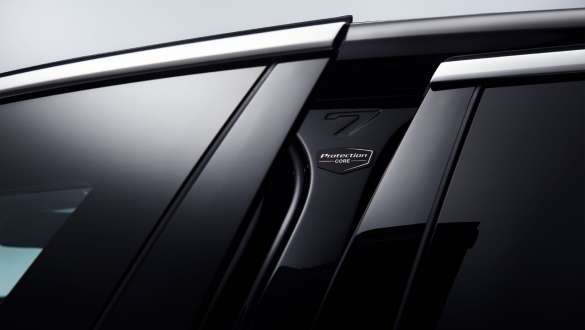 BMW PROTECTION CORE.
The core structure of the new BMW 7 Protection is the basis for its unique protection architecture. We call it: The PROTECTION CORE. This heavily armoured inner core surrounds the entire passenger compartment and invisibly provides unprecedented protection for its occupants. The low weight of the PROTECTION CORE increases the driving performance. At the same time, it is designed in such a way that its size does not limit the interior space compared to the standard vehicle. Which means that you experience the same spacious comfort in the new BMW 7 Protection as in the BMW 7 Series.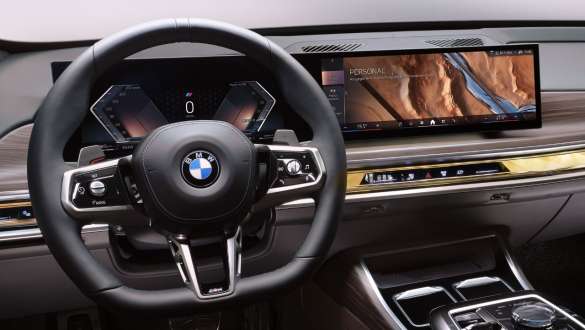 BMW Protection Command Touch System.
Innovative touch operating concept of the special protection-relevant functions, more operating comfort: modern, discreet and individual operation.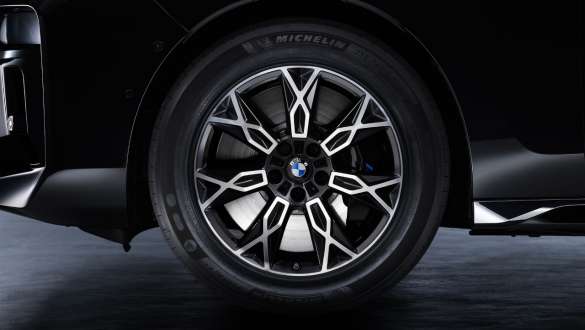 BMW 20" Alloy Wheels with Michelin PAX system tires.
Michelin PAX system with run-flat tires were developed specifically for the new BMW 7 Protection. Their advantages include a shorter breaking distance, better acceleration, and transverse dynamics. Thanks to Run-flat rings in the newly developed tires enable continued driving after a loss of tire pressure.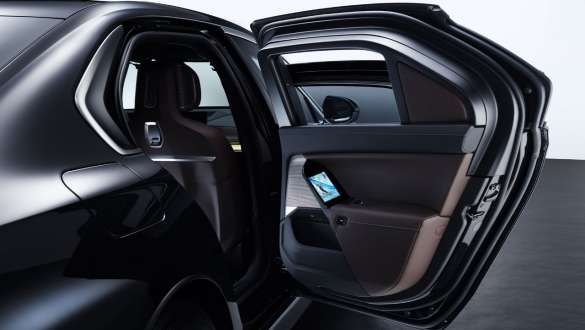 All-door Emergency Exits.
Prepared for emergencies: All doors can be equipped with an emergency exit function. In case you need to leave the vehicle quickly.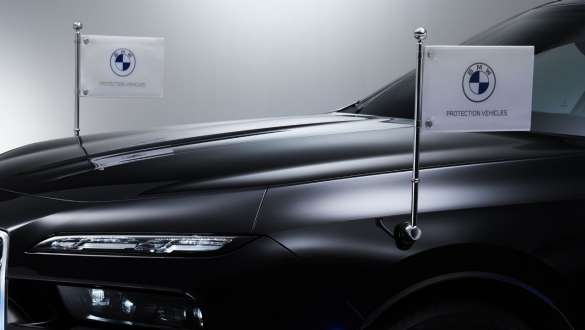 BMW Pennant Holder.
The new BMW 7 Protection appears unobtrusive and elegant, unless you want it differently: for particularly representative requirements, it can be equipped with pennant holders (available for both sides).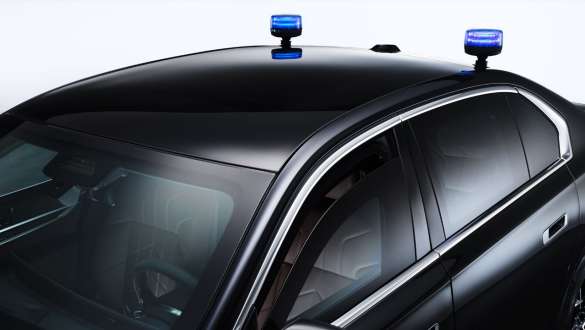 BMW Flashing lights and beacons.
The removable blue beacons can be ordered with audible warning signals (ECE or US standard). In addition, blue and red flashing lights are available for the front and rear as well as blue flashing lights for the mirrors or the side.
Standard Equipment
Optional Equipment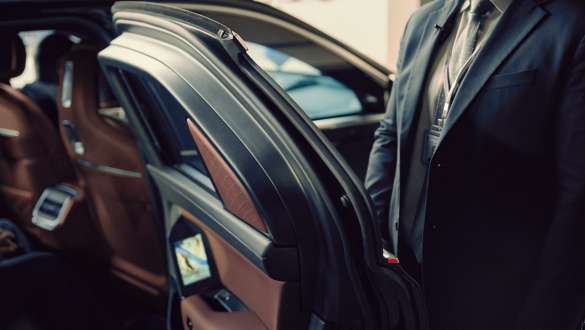 BMW Effortless Door.
Even the doors, which are armoured in the truest sense of the word, can be closed not only smoothly but even fully automatically thanks to 'Effortless Door' technology.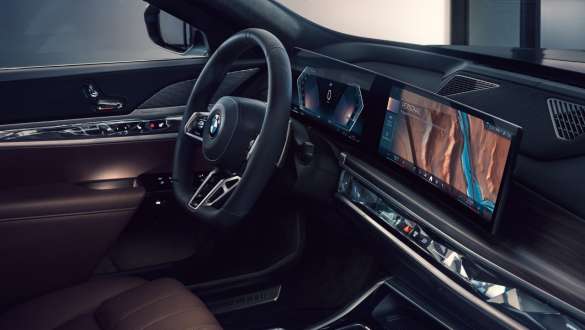 BMW Integral Active Steering.
Even more agile and maneuverable thanks to BMW Integral Active Steering. At high speed, driving stability increases.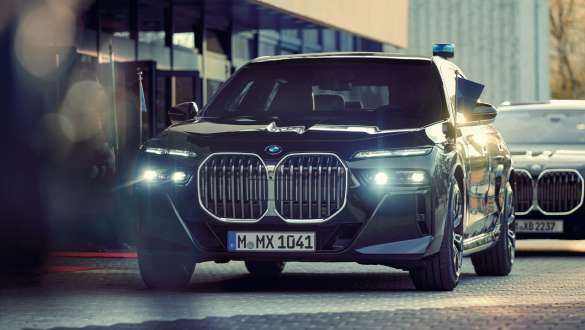 BMW Parking Assistant Plus.
A better view when parking and manoeuvring: Thanks to the panoramic and 3D view of the vehicle's surroundings, you can manoeuvre effortlessly even in tight spaces. This prevents parking damage and accidents in unclear situations.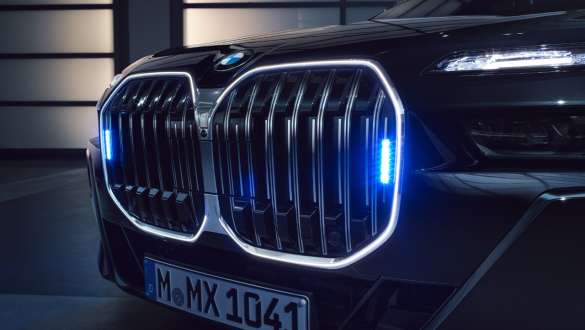 BMW Kidney 'Iconic Glow'.
Visual highlight on the exterior: contour line lighting impressively showcases the BMW Kidney 'Iconic Glow', whether at a standstill or while driving. When deactivated, the technology is not visible.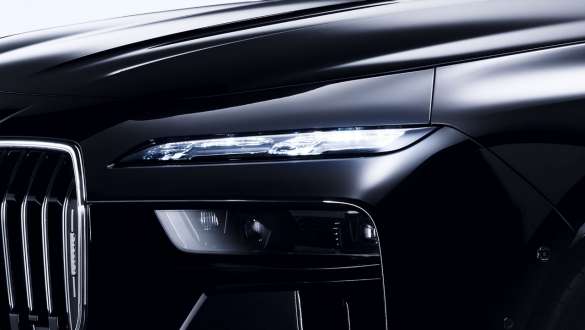 BMW Crystal Headlights 'Iconic Glow'.
Iconic front design: the BMW Crystal Headlights 'Iconic Glow' give your BMW a special aura and aesthetic.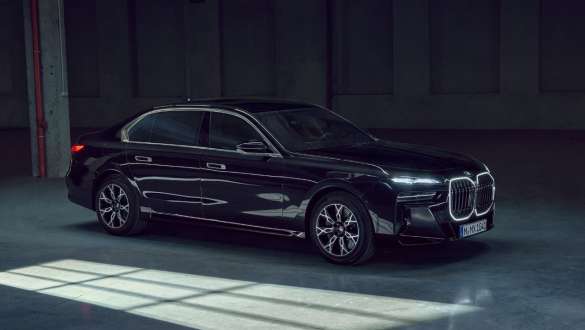 Other standard and optional exterior equipment is available.
Other standard and optional protection equipment is available, please contact us for more details.
Standard Equipment
Optional Equipment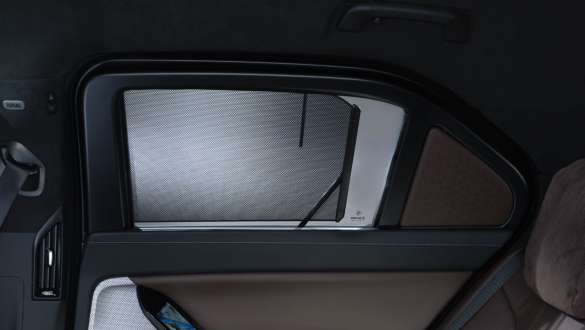 BMW Sun Protection Blind.
Welcome to the exclusive Privacy Lounge — perhaps one of the most secure and comfortable place you've ever been. From here you will experience one thing above all: space. You can use it to relax — or if necessary: to prepare for your next tasks. Or if you want to take an invisible sneak on the outside: Simply use the horizontal sun blinds — they offer you a 'Spy Function' through a small gap.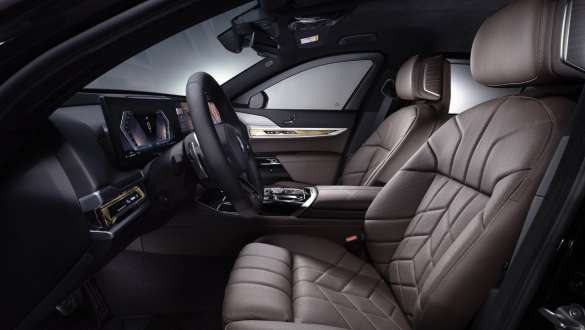 BMW Multifunction Seat Front and Rear.
High level of seating comfort: the BMW Multifunction Seats for front and rear offer additional adjustment possibilities. With the electric adjustment of the backrest width, backrest upper section, head height and depth, you can adapt the seats optimally to your needs. In the event of an accident, crash-responsive head restraints can reduce the risk of injury.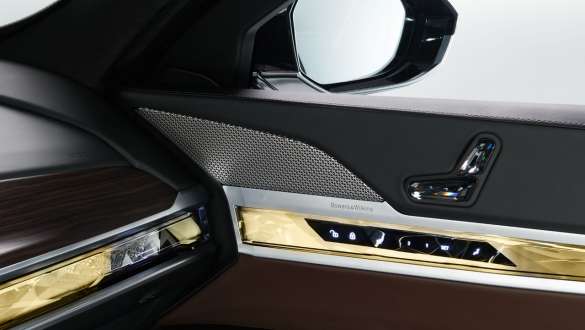 BMW Sound System Bowers & Wilkins Diamond Surround.
The BMW Bowers & Wilkins Diamond Surround Sound System creates a 1,265-watt audio experience through 28 tweeters, mid-range speakers, central bass and shakers.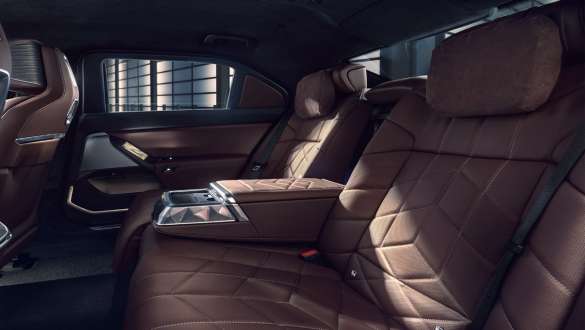 BMW Executive Lounge Seating.
Lean back and enjoy: As a rear-seat passenger behind the driver, BMW Executive Lounge Seating offers you a comfortable and restful position with continuous leg rest. For even more space in the rear, you can also move the front passenger seat forward by up to 110 mm.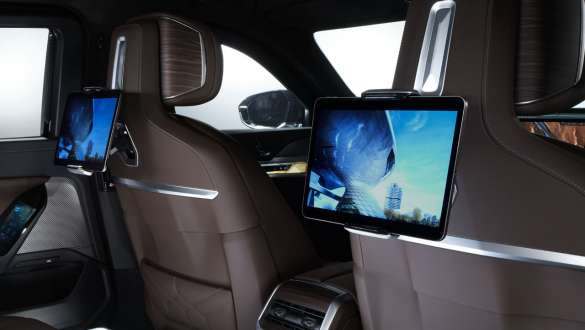 BMW Travel & Comfort System.
The BMW Travel & Comfort System incl. USB-C connection creates the prerequisite for attaching your personal tablet securely to the back of the respective front seat. A flexible solution that blends harmoniously into the overall picture.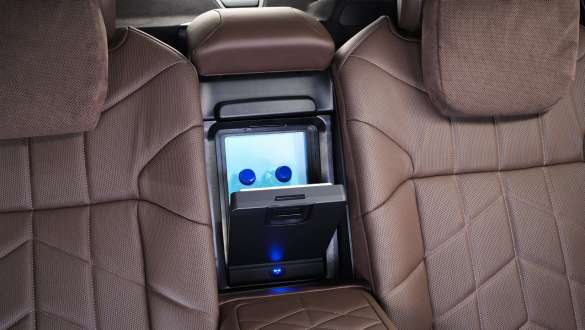 BMW Cooling box.
The BMW Cooling Box is elegantly recessed between the rear seats. The next refreshment – drinks or snacks – is always within reach.
TECHNICAL DATA OF THE NEW 7 PROTECTION.
| | |
| --- | --- |
| Engine power in kW (hp) at 1/min(1): | |
| Acceleration 0–100 km/h in s(1): | |
| Fuel consumption combined in l/100 km(1)(2): | |
| CO2 combined emissions in g/km(1)(2): | |
| | |
Fuel consumption and CO2 emissions.
BMW 7 Protection: Fuel consumption, combined WLTP in l/100 km(1)(2): 14.6(3); CO2 emissions, combined WLTP in g/km(1)(2): 328.1(3)

(1) Performance data of petrol engines apply to vehicles using RON 98 fuel. Fuel consumption data apply to vehicles using reference fuels in accordance with EU Regulation 715/2007. Unleaded RON 91 and higher with a maximum ethanol content of 10% (E10) may also be used. BMW recommends RON 95 fuel. For high-performance automobiles, BMW recommends RON 98 fuel.

(2) Official data for fuel consumption, CO2 emissions, power consumption and electric range was determined in accordance with the prescribed measuring procedure and corresponds to European Regulation (EC) 715/2007 in the applicable version. For ranges, data determined as per WLTP takes into account any optional equipment (available on the German market in this case). For vehicles that have been newly type approved since 1 January 2021, only the official data according to WLTP exists. In addition, NEDC values are deleted from the certificates of conformity as of 1 January 2023 by EC regulation 2022/195. For more information about NEDC and WLTP measuring procedures visit www.bmw.com/wltp

Further information about fuel consumption and official model-specific CO2 emissions of new passenger cars can be found in the "Guideline for fuel consumption, CO2 emissions and electric power consumption for new passenger cars", available free of charge at all points of sale, at the Deutsche Automobil Treuhand GmbH (DAT), Hellmuth-Hirth-Str. 1, 73760 Ostfildern-Scharnhausen, Germany, and under www.dat.de/co2/.

(3) Provisional figures; any missing figures were unavailable at the time of publication.

(4) The EC unladen weight refers to a vehicle with standard equipment and does not include any optional extras. The unladen weight includes a 90% full tank and a driver weight of 75 kg. Optional equipment may affect the weight of the vehicle, the payload and the top speed if the selected equipment has an impact on the vehicle's aerodynamics.
Read more